ShermanTheMythran (Character)
Information
Pieces:
4
Status:
Skill:
User
Uses walkie-talkie to call robots to help him fight
ShermanTheMythran is a character in Brickipedia: The Videogame. He has three purchasable outfits in addition to his default. He is not as big an editor as some other users.
Variations
Edit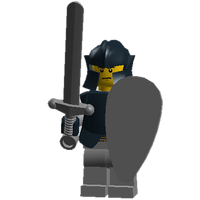 This outfit has a sword and shield. Its special ability is a sword spin, which is devastating to vandals when used.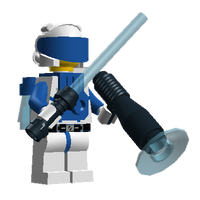 This state-of-the-art outfit is complete with a laser gun and lightsaber. Both are extremely affective in destroying vandals and other enemies.
maestro35
Edit
ShermanTheMythran's alter ego, maestro35, has a custom suit equipped with a violin. It starts with a student violin, then you can upgrade to an intermediate, then an expert. When played, the violin will cause all nearby enemies to stop and listen. The sound being very beautiful, they will cry so hard that they melt into puddles onto the floor.